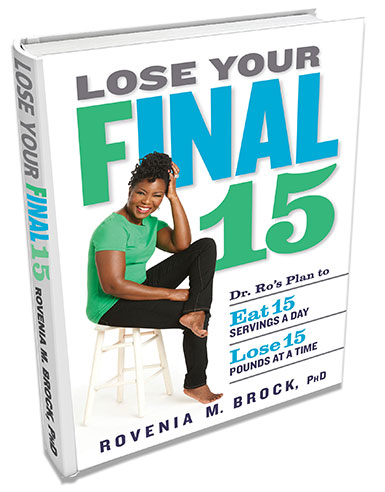 You may know nutritionist Dr. Rovenia M. Brock from her regular appearances on The Dr. Oz Show and The Meredith Vieira Show, or from her own health show, Heart & Soul, on BET. She has helped stars like Sherri Shepherd and everyday people alike drop millions of pounds, and now she's sharing her best-ever diet plan in Lose Your Final 15.
Lose Your Final 15 is all about 15 days, 15 pounds, and 15 servings. The plan is broken down into three, 15-day phases. In each phase, you will enjoy 15 servings of food per day. Dr. Ro teaches you to identify foods by their real serving size with easy at-a-glance charts and tables. You can then choose your 15 servings per day from the 45 delicious recipes developed by Dr. Ro to keep you satisfied and on track.
Beyond just diet, Lose Your Final 15 includes 15-minute meditation guides and exercise plans that fit into any schedule. With Dr. Ro as your guide, you will experience newfound vibrancy, health, and happiness.
The Final 15 Anthem
I was inspired by you, yes you – to write a message of motivation and encouragement to keep you going on your Final 15 Journey. It's called "The Final 15 Anthem." It is a poem that I hope will provide you with affirmation and inspiration to continue losing weight until you achieve your goal.
Listen to the teaser of The Final 15 Anthem below!
[sc_embed_player_template1 fileurl="https://everythingro.com/wp-content/uploads/2017/06/final-15-teaser.mp3″]

Step1: Buy the Lose Your Final 15 Book
Step 2: Join the 15 Million Pound Challenge
Step 3: Join the F-15 Private FB Group for more support
Fill out the form below to get Personal Support from Dr. Ro
Final 15 Success Stories
Congratulations to Kisha Hymes, our newest Final 15 Family Member! Kisha lost 50 pounds on the Final 15 Plan and says…
"It was hard work but I used Dr. Ro's Book, "Lose Your Final 15" and am now down 50 pounds. I still have more to lose but I'm on the right path."