Dr. Ro – America's Nutrition Coach, "Motivating You One Meal At A Time!"
Rovenia Brock, Ph.D.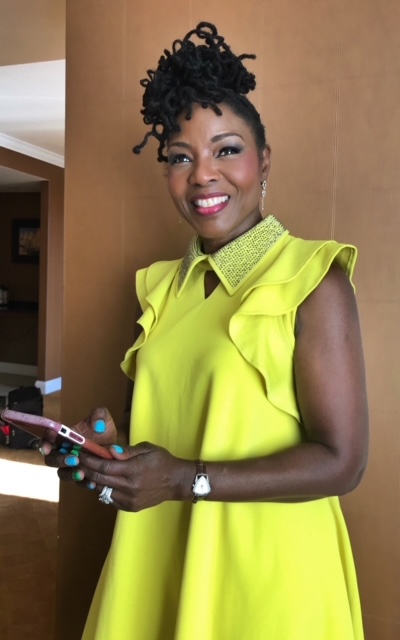 ​​Author of Lose Your Final 15:
​​Dr. Ro is the go-to Emotional Eating Coach and destination where women meet the best of themselves.
She is author of 3 books, Lose Your Final 15: ​​Dr. Ro's Plan To Eat 15 Servings A Day, Lose 15 Pounds At A Time, Dr. Ro's Ten Secrets To Livin' Healthy, and You Healthy, And Happy: Dr. Ro's Tips To Living An Inspired Life.
Dr. Ro is an award-winning health journalist, television personality and Holistic Health and Emotional Eating Coach known for her easy-to-apply diet, fitness, and health advice for women and families.
​​
​​Dr. Ro has been a leading nutrition coach for over 2 decades and was named one of the nation's top 5 nutritionists by More Magazine and Shop Smart (The quick & easy guide from Consumer Reports). She currently hosts the "Dr. Ro On Demand" podcast available across podcast platforms and previously penned a health Column "America's Nutrition Coach," for the National Newspaper Publishers Association, distributed to 200 African American newspapers nationwide.
Dr. Ro has served as the resident nutritionist and blogger for iVillage.com the leading source of health and lifestyles for women and families at the time. She joins First Lady Michelle Obama and Oprah Winfrey on the Ebony Power 100 List of the Most Influential African Americans in the U.S. (2010 and 2012). She is the Dr. Oz Show Nutrition Coach who helped over a half-million Americans lose more than 5 million pounds and served on the Medical Advisory Board for the Dr. Oz Show for 7 seasons. She recently joined the Advisory Board at Family Circle Magazine and was guest columnist in 2019 to Ebony Magazine's "Get Fit" and "Health and Wellness" columns.
​​
​​Dr. Ro also served as nutrition coach to the Meredith Vieira Show and has held the same post on The View, helping Sherri Shepherd lose weight for her infamous on-camera swimsuit reveal. She contributed to "Anderson Live" Anderson Cooper's Daytime Talk Show where she helped obese teenagers and families lose weight to gain their lives back. Dr.Ro has contributed to national news outlets such as NBC's Today Show, The CBS Early Show, Good Morning America, CNN, HLN, and to National Public Radio, where she also had a weekly segment.
She served as lead nutrition coach, to TV-One's Makeover Manor where she also hosted "Livin' Healthy with Dr. Ro" and was the first and only Medical Correspondent to BET News and host of Heart and Soul, the network's first ever national health magazine show for women of Color. As the go-to nutrition coach to real people and celebrities, Dr. Ro has been featured in O Magazine, Quick & Simple, Self, Ebony, Essence, Family Circle, The Dallas Morning News, Memphis Commercial Appeal and numerous national publications. With her recent book Lose Your Final 15, she was the third African American woman to be the cover story in the magazine's history at Woman's World Magazine for her work helping women to lose weight. Her first book, Dr. Ro's Ten Secrets To Livin' Healthy, was recommended by USA Today & New York Daily News as a "must-have" to slim down.
Dr. Ro has been the go-to Nutrition Coach for Fortune 500 companies, having established a brand of integrity, honor, and genuine care, she is known for getting results for the women and families she serves.
​​
​​Having lost her mother to stomach cancer at age 9, Dr. Ro has researched and written extensively about ways to break bad health habits—from eating high-calorie comfort foods and resisting exercise to giving up on health goals and taking on the negativity of saboteurs. In her quest to save a generation from early death and preventable disease, her passion recently led her to create a digital series "Dr. Ro's Fit Kidz" to teach children fun ways to embrace nutrition and fitness for healthier lifestyles.
​​
​​Dr. Ro holds a Ph.D. in Nutritional Sciences, a M.S. Degree in Community Nutrition and Broadcast Journalism from Howard University, and a B.S. degree in Foods and Nutrition from Virginia State University.
As an award winning nutritionist she has received many awards, including the Women in Medicine Award from The National Medical Association, and others from The American Heart Association, The American Cancer Society, and is the recipient of Howard University's Most Distinguished PhD alumnae award (1998 and 2002). Dr. Ro is Nutrition Director at Dr. Riggins' Medical Aesthetic Skin Care (MASC)  in Gadsden, Alabama, a medical aesthetic practice co-owned with her husband, Dr. Murray Riggins. For more on Dr. Ro's healthy lifestyles platform visit www.everythingro.com. Find her on Twitter and IG @everythingro and on Facebook: facebook.com/@1drro.